Matte Black aluminum Diamond Plate
Author :frank   Time:2022-02-21
Guide :
Matte black aluminum diamond plate is to put the aluminum plate into the corresponding electrolyte as the anode and conduct electrolysis under specific conditions and applied current, so as to oxidize the aluminum plate of the anode and form
Matte black aluminum diamond plate is to put the aluminum plate into the corresponding electrolyte as the anode and conduct electrolysis under specific conditions and applied current, so as to oxidize the aluminum plate of the anode and form a thin layer of alumina on the surface. The thickness of the black oxidized oxide film is 5 ~ 20 microns, and the hard anodic oxide film can reach 60 ~ 200 microns. Matte black aluminum diamond plate is favored by many consumers because of its very good durability and high aesthetics.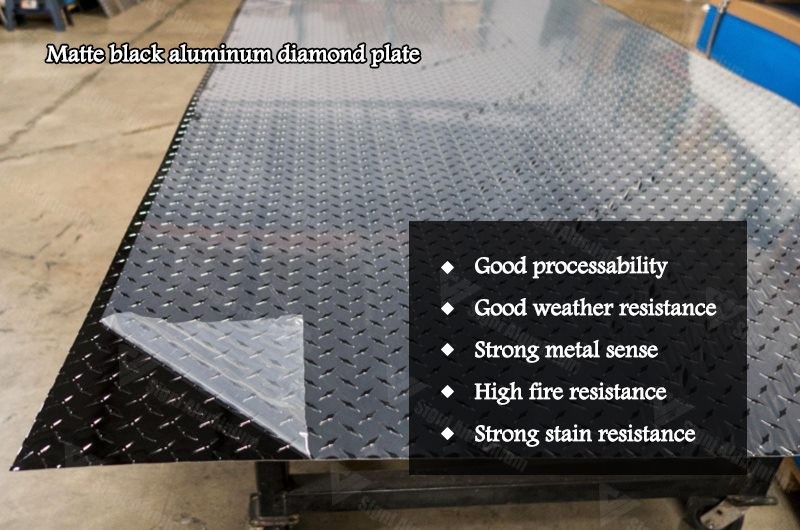 1. Good processability: the positive grade aluminum oxide plate has strong decoration and moderate hardness. It can be easily bent and formed, continuous high-speed stamping, which is convenient for direct processing into products without complex surface treatment, which greatly shortens the product production cycle and reduces the product production cost.
2. Good weather resistance: standard thickness oxide film (3) μ m) The anodized aluminum plate is used indoors for a long time without discoloration, corrosion, oxidation and rust. Thickened oxide film (10) μ m) The anodized aluminum plate can be used outdoors and can be exposed to the sun for a long time without discoloration.
3. Strong metal sense: the anodized aluminum plate has high surface hardness, up to gem level, good scratch resistance, no paint coverage on the surface, retains the metal color of the aluminum plate, highlights the modern metal sense, and improves the product grade and added value.
4. High fire resistance: pure metal products, without paint and any chemical substances on the surface, do not burn at 600 ° C, do not produce toxic gases, and meet the requirements of fire protection and environmental protection.
5. Strong stain resistance: no fingerprints, no stain marks, easy to clean and no corrosion spots.
Matte black aluminum diamond plate is widely used in toolbox, automobile floor, decorative wallboard, marine plywood, anti-skid floor, fire engine ladder and so on.