0 25 aluminum diamond plate 4x8 sheet
Author :frank   Time:2020-11-17
Guide :
0 25 aluminum diamond plate 4x8 sheet is a deep-processed product of aluminum plate formed by forming various patterns on the surface of the aluminum plate after pressure processing. Aluminum alloy checkered plates can be roughly divided in
0 25 aluminum diamond plate 4x8 sheet is a deep-processed product of aluminum plate formed by forming various patterns on the surface of the aluminum plate after pressure processing.   Aluminum alloy checkered plates can be roughly divided into two categories according to the different patterns. One. Checkered plate, beautiful category: orange peel pattern aluminum plate, diamond pattern aluminum plate, semi-spherical pattern aluminum plate, orange peel pattern aluminum plate, pearl pattern aluminum plate, etc.

The appearance effect of this kind of aluminum plate is better, and the orange peel pattern aluminum plate should have better The contact area is often used in refrigerators and air conditioners. two. Pattern plate, anti-slip type: The principle is the same as that of printing patterns on the sole. If a certain shape of pattern is pressed on the aluminum plate, then this kind of aluminum plate becomes an anti-slip pattern aluminum plate. The commonly used patterns are the pointer pattern aluminum plate, which is named because of the similar size and the pointer; and the five rib pattern aluminum plate.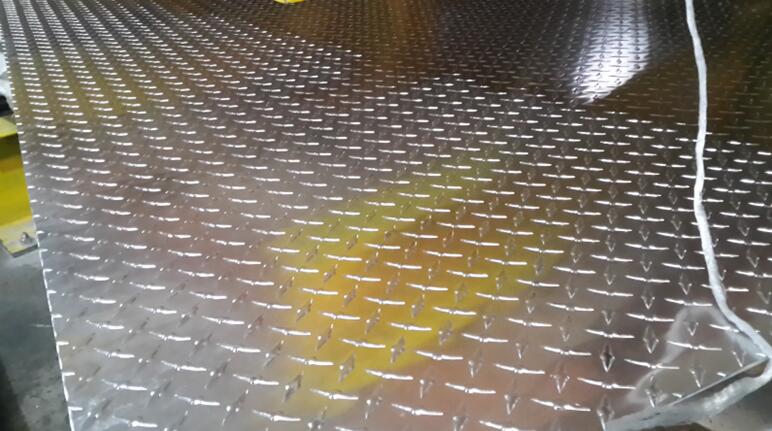 Common specifications of checkered plate: 0 25 aluminum diamond plate 4x8 sheet, .045 aluminum diamond plate, aluminum diamond plate sheets 4x8, 4x8 1/4 diamond plate aluminum    
Alloy
1 series
3 series
5 series
6 series
Typical alloy
1100、1060
3003
5052、5754
6061、6063、6082
Temper
H*2、H*4、T4、T6
Thickness(mm)
1.2-8.0
Width(mm)
100-1850
Length(mm)
500-16000
  Market application It is widely used in furniture, such as refrigerators, air conditioners, carriages, platforms, packaging pipes, screen frames, various suspension beams, table legs, decorative strips, handles, wire grooves and covers, chair tubes, etc.