5mm 6mm aluminium checker plate
Author :frank   Time:2020-12-21
Guide :
Aluminum checker plates are also called non-slip aluminum plates and embossed aluminum plates, which refer to aluminum plates with patterns on the surface. 5mm 6mm aluminium checker plate means that the thickness of the aluminum base plate
Aluminum checker plates are also called non-slip aluminum plates and embossed aluminum plates, which refer to aluminum plates with patterns on the surface. 5mm 6mm aluminium checker plate means that the thickness of the aluminum base plate is 5mm or 6mm, and the rib height is generally above 1.5mm. According to the pattern, it can be divided into five bars aluminum alloy checkered plate, diamond aluminum alloy checkered plate, orange peel aluminum alloy checkered plate, lentil-shaped pattern aluminum plate, and spherical patterned aluminum plate. The performance of different checkered plate materials will also have great differences.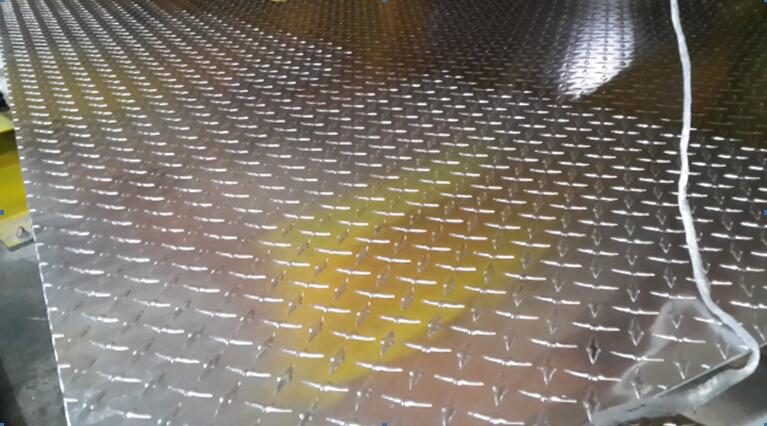 There will also be price differences. So when choosing a tread plate, you should choose according to your different needs.  
Offshore platforms or marine checker plates require relatively strong corrosion resistance. Generally, aluminum plates of 5083, 5754, 5454, or 6061 are used. 5mm 6mm aluminium checker plate is also the most commonly used aluminum plate because it is strong and durable and lasts longer.  
The aluminum checker plate used in the detection platform of a chemical plant is generally made of 3003 alloy, which is resistant to acid and alkali and corrosion, and is not easily oxidized.  
For general decorative pattern plates, diamond aluminum checker plates are usually used. This kind of substrate is relatively thin, usually 1100 alloy is sufficient.  
The aluminum checker plate used in the toolbox generally requires a bright surface, beautiful appearance, and usually uses a bright surface pointer pattern aluminum plate.  

SIGNI Aluminum's aluminum checker plate is the company's superior product. The company can produce 1-series, 3-series, 5-series and 6-series pattern aluminum alloy plates. The aluminum checker plate has won unanimous praise from new and old customers in the domestic and foreign markets. Among them, the company's diamond aluminum checker plate has a market share of 30-40% in the European and American markets, and the patterned plate with a thickness of less than 2.0mm has a share of 50%.