aluminium 5 bar chequer tread plate
Author :frank   Time:2021-01-15
Guide :
Aluminium chequer tread plate is a common non-slip material, which is very common in life. It has many advantages such as beautiful appearance, non-slip, enhanced performance, and saving steel. It is used in transportation, construction, de
Aluminium chequer tread plate is a common non-slip material, which is very common in life. It has many advantages such as beautiful appearance, non-slip, enhanced performance, and saving steel. It is used in transportation, construction, decoration, equipment surrounding floor, machinery, shipbuilding, etc. There are a wide range of applications in the field, such as own stairs, subway cars, non-slip floors of large stadiums, etc.   Aluminium chequer tread plates generally have 1 bar, 2 bars, 3 bars, and 5 bars. The uses of different pattern aluminum plates are very different. The aluminium 5 bar chequer tread plate
 has good anti-skid ability and is widely used in construction (floor) platform design and other aspects. Since the patterns on the surface of the aluminum plate are arranged in relatively parallel according to five concave-convex patterns, and each pattern presents an angle of 60-80 degrees with other patterns, this pattern has excellent anti-slip performance. This kind of aluminum plate is usually used as anti-skid in China, which has a good anti-skid effect.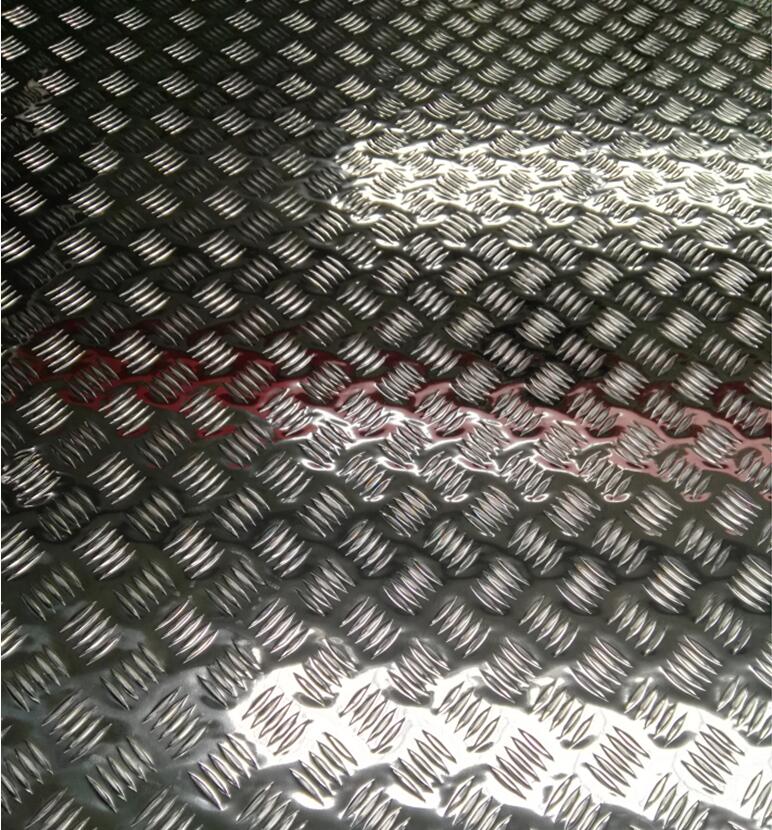 Aluminium 5 bar chequer tread plate can be divided into big five ribs and small five ribs according to the length of the pattern. Their pattern lengths are 42mm and 34mm respectively. Different patterns have different application fields. For example, when packaging or wrapping pipes, diamond-shaped aluminum plates are used. In addition, checkered plates are also very common in furniture. Compared with other aluminum plates, the five-reinforced checkered plate has better anti-slip function, especially in some public places or vehicles.   Aluminium 5 bar chequer tread plate is one of Signi Aluminium's superior products. The patterned aluminum plate we produce is flat and has high gloss, which has been widely praised by customers at home and abroad. Signi Aluminium can produce products such as one rib, two ribs, three ribs, five ribs, diamond checkered plates, orange peel checkered plates, etc. The thickness range that can be produced is 1.2-7.0mm, the width range is 100-1650mm, and the length range is 500-16000mm, customized service can also be provided according to customer needs. Moreover, our products have obtained many strict quality certification certificates, and the product quality is guaranteed, so customers can buy with confidence.