Hemispherical pattern aluminum sheet for thermal dissipation
Author :frank   Time:2022-07-29
Guide :
The automobile engine will produce a lot of heat during operation. How to dissipate this heat with low cost and high efficiency is also a small problem that designers think about day and night. Nowadays, most of them use steel plate or alumi
The automobile engine will produce a lot of heat during operation. How to dissipate this heat with low cost and high efficiency is also a small problem that designers think about day and night. Nowadays, most of them use steel plate or aluminum strip to dissipate heat, but it is not ideal. Later, there is orange peel aluminum plate, which increases the heat dissipation effect, but it is still not ideal. The surface area of the thermal pattern aluminum sheet produced by signi aluminum with special process has increased greatly, The heat dissipation effect is much stronger than that of orange peel aluminum plate. Now this new heat dissipation aluminum plate has been widely used in cars produced by BYD Xi'an company and JAC automobile company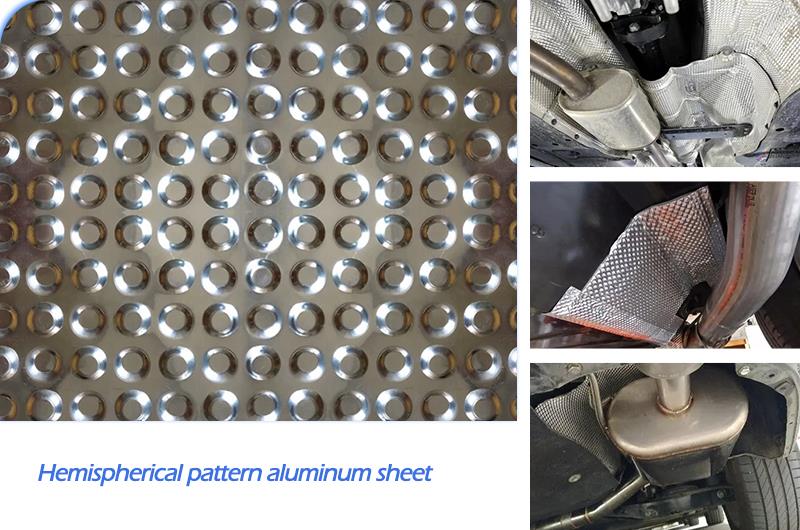 The surface of the hemispherical embedded aluminum sheet presents a small spherical pattern, just like small pearls, so this aluminum sheet can also be called "pearl shaped pattern aluminum sheet". At present, it is mainly used for heat dissipation of automobile engines and exhaust pipes, and is also widely used for heat dissipation of petroleum and chemical equipment. Due to the special pattern, its heat dissipation performance is much higher than other pattern series of aluminum plate.
The hemispherical embedded aluminum sheet is a part that needs pressing treatment before stamping and forming. The pressing density is 156 plus or minus 17, and the pressing height is 2 plus or minus 0.05mm. The mechanical properties of the aluminum plate are in accordance with gb/t3880.2, and the edges are free of burrs and sharp edges. The tensile strength is 65-95, the extension is greater than 22, and the commonly used material is 1050A 0. Generally, it is special size, and it can be produced and processed completely according to the size required by customers.
Scope of application:
It is suitable for producing all kinds of stamping parts of automobile engine heat shield, heat shield parts, engine heat shield, automobile water tank, exhaust pipe heat shield parts, etc. The products have been used in GAC, Volkswagen, Ford, JAC, BAIC, GM and other automobiles and widely in furniture, such as refrigerators, air conditioners, carriages, platforms, packaging pipes, screen frames, various suspension beams, table feet, decorative strips, handles, trunking and covers, chair tubes and so on.