Diamond tread plate aluminum sheets
Author :frank   Time:2022-07-15
Guide :
Diamond aluminum sheets at present, the commonly used anti-skid aluminum sheets in China include five rib series (willow leaf pattern) and pointer series, especially the five rib pattern aluminum sheets are widely used in anti-skid aspects o
Diamond tread plate aluminum sheets has the function of forming relative friction through uneven lines to increase the anti-skid effect.
Diamond aluminum sheets at present, the commonly used anti-skid aluminum sheets in China include five rib series (willow leaf pattern) and pointer series, especially the five rib pattern aluminum sheets are widely used in anti-skid aspects of working platforms, carriages, ship bilges, cold storage, and workshops.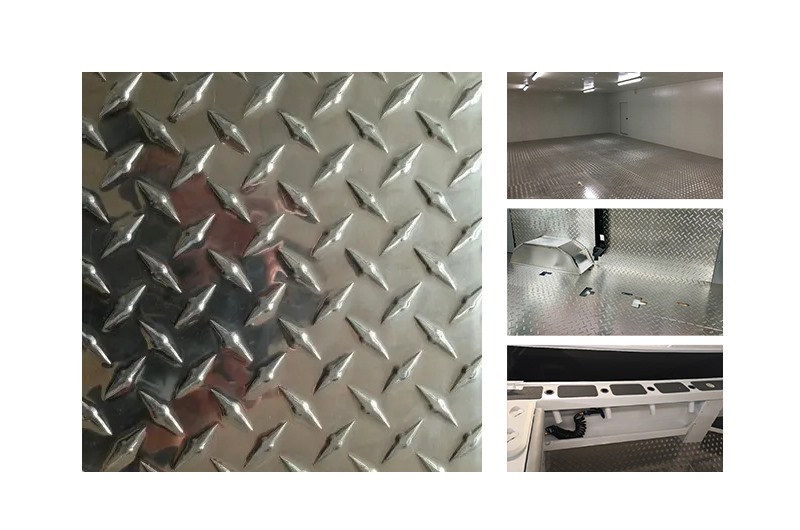 At present, the selection of diamond aluminum plates is usually: the anti-skid aluminum plates at the bottom of cold storage, carriage and ship cabin are usually 1060-h24 3.0mm thick. This series of aluminum plates do not need to be suspended and do not bear load. Therefore, there is no need to choose high thickness and high hardness anti-skid aluminum plate.
For special places (such as places that need to be suspended, or where there is high corrosion, or where it is easy to rust and corrosion), it is recommended to choose 5052 or 6061 aluminum tread plate sheets. This series of anti-skid aluminum sheets has excellent rust and corrosion resistance.
For places that need staff to step on in the air, it is recommended to choose alloy series with a thickness of no less than 6.0mm. This series and thickness of anti-skid aluminum plate can maximize the safety of staff and ensure the service life of anti-skid aluminum plate.
| | |
| --- | --- |
| Alloy | 1100,3003, 4017, 5052, 5083,5754,6061 |
| Temper | H114、T4、T6、T651 |
| Thickness(mm) | 1.5-6 |
| Width(mm) | 500-1500 |
| Length(smm) | 500-16000 |
| Typical usage | Base Plates, Truck Parts, Marine Accessories, Marine Components, Marine Hardware, Electrical Connectors, Electrical Connectors and Camera Lens Mounts, Heat Treated and Cold Worked |