5754 H114 aluminum diamond plate
Author :frank   Time:2022-03-04
Guide :
5754 h114 aluminum diamond plate is the most commonly used product in anti-skid pattern aluminum plate and the most common product series in the market. Five rib pattern aluminum plate products are available from stock, with stable quality a
5754 h114 aluminum diamond plate is the most commonly used product in anti-skid pattern aluminum plate and the most common product series in the market. Five rib pattern aluminum plate products are available from stock, with stable quality and low price.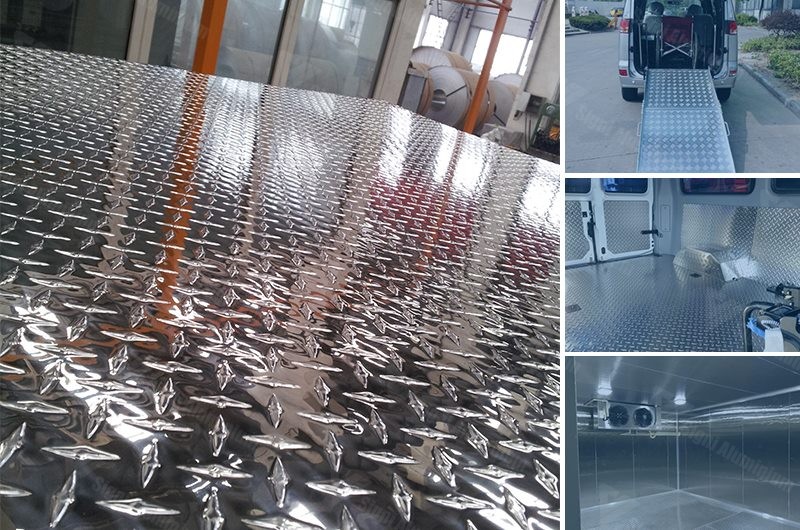 5754 aluminum alloy has the characteristics of medium strength, good corrosion resistance, weldability and easy processing and forming. It is a typical alloy in Al Mg alloys. In foreign countries, 5754 aluminum plate with different heat treatment states is the main material used in automobile manufacturing (car door, mold and seal) and can making industry. 5754 h114 aluminum diamond plate is widely used in welded structures, storage tanks, pressure vessels, ship structures and offshore facilities, transportation tanks and occasions requiring excellent processing performance, excellent corrosion resistance, high fatigue strength, high weldability and medium static strength.
Spot inventory: at present, our company has spot inventory, with specifications of 1220 * 2440mm, and five ribbed aluminum plates with thickness of 1.2, 1.5, 2.0, 2.5, 3.0, 3.5, 4.0, 5.0 and 6.0mm. Spot stock can be sold in detachable bags. No matter how many pieces you buy, you can ship them. Non standard dimensions can also be customized, with a maximum width of 1900mm and a maximum length of 12m.
5754 h114 aluminum diamond plate product application: 5754 h114 aluminum diamond plate is mainly used in anti-skid of ground and pedal. Typical applications are automobile pedal, cold storage ground, ship and bus bottom anti-skid. Due to the good brightness and high-quality anti rust performance of aluminum, it can not only play an anti-skid role, but also play a decorative effect (the iron patterned aluminum plate will soon rust). At the same time, if the anodized surface treatment is adopted, the service life of patterned aluminum plate can be further improved.