Aluminum checkered floor plate
Author :frank   Time:2021-08-09
Guide :
Aluminum checked floor plate is widely used in architectural decoration, transportation, shipbuilding and other fields. Cold rolled strip produced by cast rolling method ' Compared with ingot hot rolling strip method ' It has the advantage
Aluminum checked floor plate is widely used in architectural decoration, transportation, shipbuilding and other fields. Cold rolled strip produced by cast rolling method ' Compared with ingot hot rolling strip method ' It has the advantages of simple process flow, less equipment investment, low energy consumption and low product cost ' It can produce pure aluminum and soft alloy strip blank ' At present, it has been widely used in aluminum rolling industry. However, the aluminum checked floor plate produced by cast rolling strip under the same cold rolling process conditions has some defects, such as insufficient pattern height, insufficient ribs, pattern offset, poor surface quality and so on. Therefore, taking 1100 aluminum alloy cast rolling strip blank as an example to produce 2 ∙ 0mm thick five strip pattern plate ' The quality of casting billet, intermediate annealing system, cold rolling parameters and emulsion lubricants which may affect the quality of embossing were analyzed. ' In order to improve the quality of pattern plate.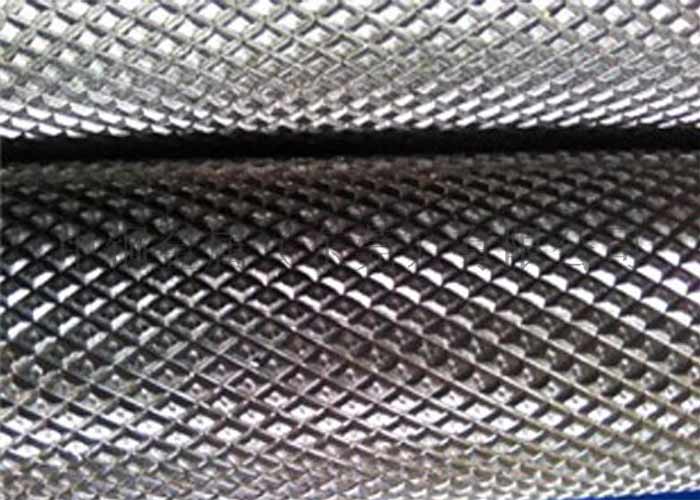 Aluminum checkered floor plate
Aluminum checked floor plate produced by cast rolling strip blank ' The blank shall be pre annealed ' Eliminate the intragranular segregation caused by casting and rolling ' Complex organizational structure and other defects. Cast rolled strip blank produces checkered plate with the same thickness as hot rolled strip blank ' The thickness of raw material should be increased by 10 ~ 15um.
The intermediate annealing temperature of cast rolled strip checkered plate is generally 40 ~ 80 ℃ higher than that of hot rolled strip ' Holding time 2H; It can also be used
High temperature rapid annealing increases nucleation rate ' Grain refinement ' Ensure annealing quality.
The embossing process uses a lower rolling speed ' The general control is 1 ∙ 2 ~ 1 ∙ 5m / s ' Ensure that the metal embossing stays in the deformation area for a long time ' The tension shall be subject to the flat belt ' It is convenient for pattern forming.
Embossing process ' High temperature in deformation zone ' The pattern belt teeth have strong adsorption capacity ' The ingredients of emulsion decreased greatly. ' The base oil and essential oil acid shall be supplemented in time according to the production situation ' Maintain a concentration of 22% and a temperature of 48 ℃ ' At the same time, strengthen the cleaning and filtration of emulsion.
The practice shows that by adjusting the cold rolling process parameters and changing the production conditions ' The cast rolled strip can also produce flowers of the same quality as the hot rolled strip striated plate.