diamond embossed aluminum sheet
Author :frank   Time:2020-09-15
Guide :
Henan Signi Aluminum Co., Ltd. specializes in the production of diamond embossed aluminum sheet products. The O-state aluminum coil is used as the base material, and the pointer pattern is formed on the surface after one-time embossing equip
Henan Signi Aluminum Co., Ltd. specializes in the production of diamond embossed aluminum sheet products. The O-state aluminum coil is used as the base material, and the pointer pattern is formed on the surface after one-time embossing equipment pressure processing. Our company's diamond embossed aluminum sheet is continuously processed by mirror rolls. The method can better ensure the surface quality and smoothness of the patterned aluminum plate. At present, we can provide bright pointer pattern aluminum plates with a thickness of 1.0-6.0mm, with a maximum width of 1800mm.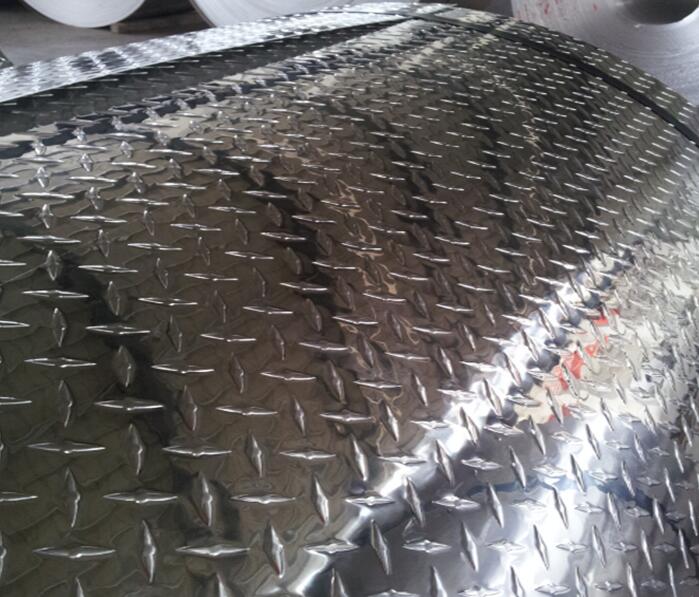 Diamond embossed aluminum sheet
can be divided into the following types according to different alloy states:  
1. Series 1 pure aluminum pattern plate: aluminum alloy pattern plate processed with 1060 aluminum plate as the base, which can adapt to the normal environment and is low in price.
2, 3 series aluminum alloy pattern plate: processed with 3003 as the main raw material, this kind of aluminum plate is also called anti-rust aluminum plate, the strength is slightly higher than ordinary aluminum alloy pattern plate, has certain anti-rust performance, but hardness and corrosion resistance The pattern board of the 5000 series has no performance.
3. 5 series aluminum alloy pattern plate: It is processed from 5000 series aluminum plates such as 5052 or 5083 as raw materials, and has good milk corrosion, hardness and rust resistance.  
Diamond embossed aluminum sheet
is widely used in the anti-skid aspects of vehicle construction, ship ground, stair treads and other industries. It is beautiful and durable; it is used in anti-skid areas from car treads to factory stations, and many bright surface products are used for architectural decoration, etc.