Aluminium tread plate price
Author :frank   Time:2022-06-10
Guide :
Aluminum alloy automobile lightweight has become one of the important means of energy conservation and emission reduction. Aluminum alloy can be seen in cars, trucks and buses. Aluminum alloy cars are made of aluminum plates with various pat
Aluminum alloy automobile lightweight has become one of the important means of energy conservation and emission reduction. Aluminum alloy can be seen in cars, trucks and buses. Aluminum alloy cars are made of aluminum plates with various patterns. Because aluminum tread plate has good corrosion resistance, weldability and oxidation resistance, its application in the carriage body can ensure greater welding performance of the carriage body and increase the safety factor of the vehicle.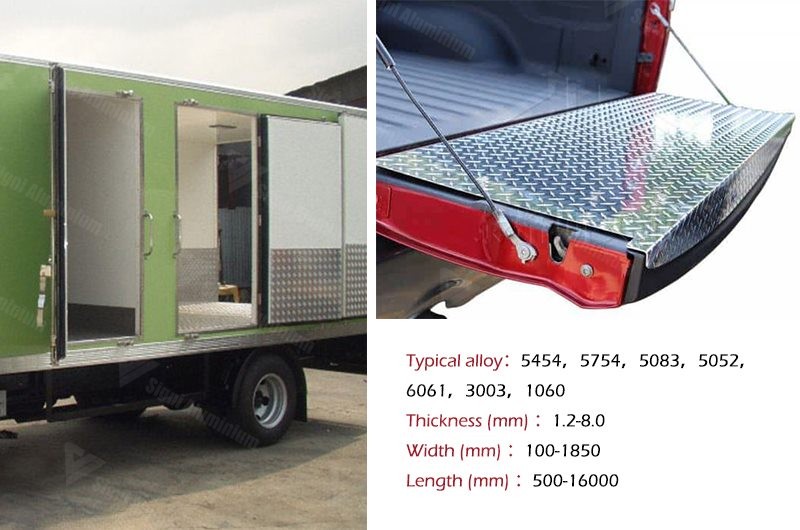 Alloy parameters of aluminum tread plate manufacturer
Typical alloy: 5454575450835052606130031101060
Material status F, O, H12, h14,
H16,H18,H19,
H22,H24,H26,
H28,H32,H34
H36,H38,H111,
H112,H114,H116,H321
Thickness (mm) 1.2-8.0
Width (mm) 100-1850
Length (mm) 500-16000
Typical products: aluminum alloy carriage, subway anti-skid, T platform, etc
Price factors of chercked aluminum plate
The aluminium tread plate price is a concern of our customers. The direct influencing factors of aluminum plate price include the price of raw materials and processing fees. The indirect influencing factors include the strength, technical level, sales mode and geographical factors of the manufacturer. The specific price of a ton of tread aluminum plate depends on the specific specifications of the material.
The specifications and dosage required by each customer are different, and the manufacturer's production difficulty is different, so the quotation is different. The specific aluminum tread plate price can be consulted online at any time. After understanding the specific needs, customer service can quickly arrange professional business one-to-one communication and provide product solutions and quotations.
Signi aluminum produces one rib, two rib, three rib and five rib tread aluminum plates. The workshop scale, production technology, sales mode and business philosophy are keeping pace with the times and constantly enriching. Its business scope covers more than 100 countries and regions around the world and has a large number of loyal users.
Signi aluminum produces tread aluminum plates, covering a wide variety of alloys. The hot selling products include 5052 tread aluminum plates, 1060 tread aluminum plates, 3003 tread aluminum plates, etc. the company sells them directly and produces them customized. Good service. The comprehensive sales service is responsible for every user to the end. The one-stop service from pre-sales, in-sales and after-sales makes users feel at ease when buying and using.