Black diamond plate sheets supplier manufacturer in China
Author :frank   Time:2018-11-26
Guide :
Henan Signi Aluminum Co., Ltd. has developed a unique Black diamond plate sheets , which is rolled by hot rolling with corrosion-resistant 3003 and 5052 alloys. The surface is made by spraying imported black brightening paint and double baki
Henan Signi Aluminum Co., Ltd. has developed a unique Black diamond plate sheets, which is rolled by hot rolling with corrosion-resistant 3003 and 5052 alloys. The surface is made by spraying imported black brightening paint and double baking. The surface is black and shiny, wear-resistant and corrosion-resistant, and the decorative effect is excellent. In order to protect the surface during transportation, a layer of PVC protective film is coated on the outside. After receiving the black compass embossed pattern board, customers can tear off the protective film after the production, so as to achieve a beautiful surface. This kind of Black diamond plate sheets has a convex compass on one side and a flat one on the other.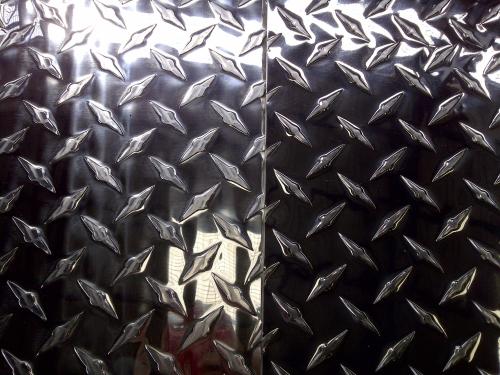 Suitable for: 1. Anti-skid and anti-corrosion
2. Used in decoration and decoration industries, such as trucks, floors, trailers, gyms and other environments.
3. Common specifications are as follows:
Black diamond plate sheets
Thickness  (mm)
1.20---6.50mm
Pattern height
Sheet Thickness from 1.0mm to 2.0mm,  bar height: 0.50mm
Sheet Thickness from 1.0mm to 2.0mm,  bar height: 1.00mm
Sheet Thickness above 2.0mm,  bar height: 1.50mm
Width (mm)
Maximum 1650mm
Length (mm)
Maximum 6000mm
Paper interleaves
On request for selected
Normal size
1200×2400mm, 1219×2438mm,  1219×3048mm