Aluminium chequered plate sheet
Author :frank   Time:2021-03-22
Guide :
Aluminium chequered plate sheet is a high-quality non-slip aluminum sheet product, which is widely used in the anti-skid aspects of vehicles, construction, ships, ground, stair treads and other industries. The patterned aluminum sheet is bea
Aluminium chequered plate sheet is a high-quality non-slip aluminum sheet product, which is widely used in the anti-skid aspects of vehicles, construction, ships, ground, stair treads and other industries. The patterned aluminum sheet is beautiful and durable. It can be as small as car pedals and as large as non-slip areas in factory stations. Application, and many bright surface products are used for architectural decoration and so on. The quality implementation standard is GB/T3618-2006 aluminum and aluminum alloy chequered plate standard. This type of aluminum plate has good anti-skid performance due to its good pattern protrusion. Aluminium chequered plate sheet products provided by Henan Xinyi Aluminum can currently provide 0.8- The patterned aluminum plate with a thickness of 10mm has a maximum width of 1900mm.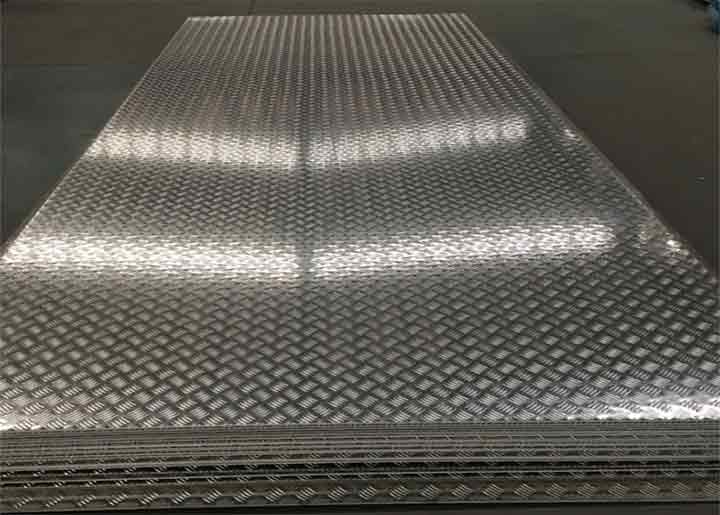 Production process: Aluminium chequered plate sheet is made of aluminum plate. After one pass of embossing equipment pressure processing, a pattern is formed on the surface. Our company's patterned aluminum plate adopts a continuous processing method to better ensure the surface of the patterned aluminum plate. Quality and finish. The pattern of the patterned aluminum plate is evenly arranged, and the anti-slip performance is outstanding. Light specific gravity, excellent durability, its tensile strength is 200N per square millimeter, aluminum plate has high elongation, relative elongation is higher than 10%, can withstand high bending without breaking, and has good toughness. It is very suitable for applications in transportation and architectural decoration industries.
Commonly used materials: Aluminium chequered plate sheet of various materials such as 1060, 3003, LF21, 3004, 1100, 1050, 5052, etc. can be provided, and products of non-standard materials can also be customized. Anodizing processing can be provided to greatly extend the pointer pattern aluminum plate. Long outdoor service life.
Our advantages: high brightness, fully automated in the production and processing process, no artificial surface scratches and oil pollution problems, patterned aluminum sheets will be separated by paper during packaging, which can better ensure the surface finish of the patterned aluminum sheets. The decorative effect is very good.