Aluminium bus floor sheet
Author :frank   Time:2022-05-13
Guide :
Signi aluminum supplies aluminum bus floor sheet, which can produce one rib, two ribs, three ribs and five rib pattern plates, supply 1060 pattern aluminum plate, 3003 pattern aluminum plate and 6061 pattern aluminum plate, and undertake ord
Signi aluminum supplies aluminum bus floor sheet, which can produce one rib, two ribs, three ribs and five rib pattern plates, supply 1060 pattern aluminum plate, 3003 pattern aluminum plate and 6061 pattern aluminum plate, and undertake orders of 8-5000 tons of aluminum plate for global export.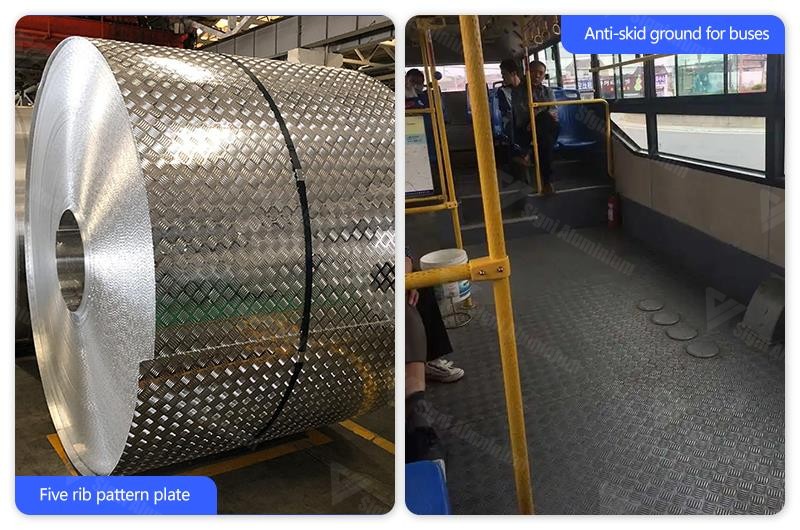 We can often see the anti-skid plate at the bottom of the car when taking the bus and the bus. This aluminum bus floor sheet can be processed and made of patterned aluminum plate. It is precisely because of the function of these ribs to prevent people from sliding.
1. When the driver takes emergency braking in driving, or when the car is going uphill or downhill, the installation of anti-skid aluminum plate can prevent passengers from falling forward or falling due to inertia and ensure the safety of passengers.
2. The hardness of anti-skid aluminum plate is stronger than that of steel and has strong corrosion resistance
Advantages of Signi aluminum's aluminum bus floor sheet
1. The aluminum plate has novel structure and good anti-skid effect. Light weight and excellent durability. The mass per square meter is about 7kg, its tensile strength reaches 200N per square millimeter, the aluminum plate has high elongation, the relative elongation is higher than 10%, can withstand high bending without breaking, and has good toughness
2. It has good corrosion resistance, hardness and rust resistance.
Aluminum
1 Series
3 Series
5 Series
6 Series
Alloy No.
1060
3003
5052、5754
6061、6063、6082
Temper
H112、H114、T4、T6
Thickness(mm)
1.2-7.0
Width(mm)
100-1650
Length(mm)
500-16000